2018 RIPA TECHNICAL CONFERENCE

Over 100 RIPA members and invited guests convened in Atlanta, Georgia April 29th through May 1st for the 2018 RIPA Spring Technical Conference.   Attendees were greeted by warm spring weather and southern hospitality in the capital of the venerable Peach State.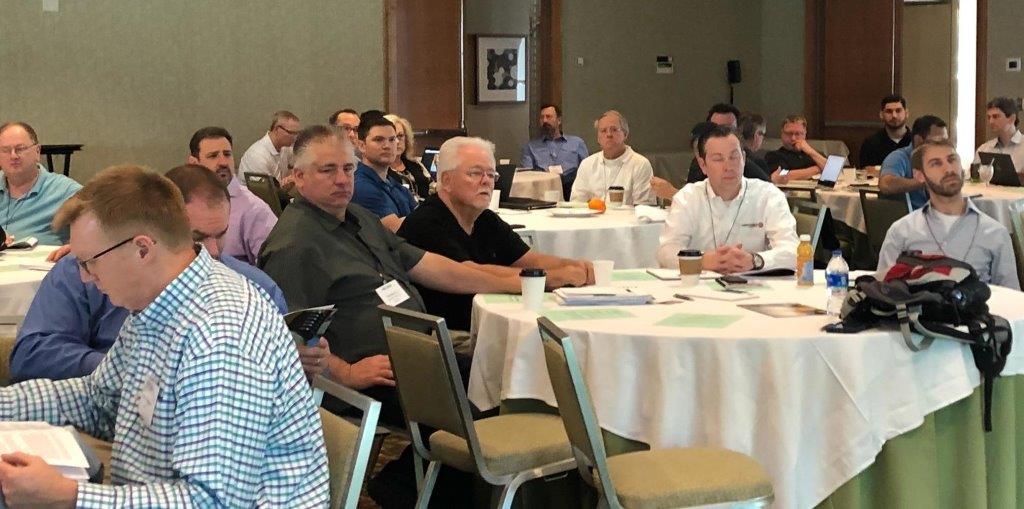 The proceedings commenced with a festive reception hosted by the RIPA Supplier Members.   Each year, the Supplier Members help sponsor the Technical Conference and make the event just a little grander.   And just as a reminder, many Supplier Members will have exhibit booths at the RIPA Fall Annual Conference in Houston, Texas October 24-26, 2018.
RIPA's Steel Drum Product Group kicked o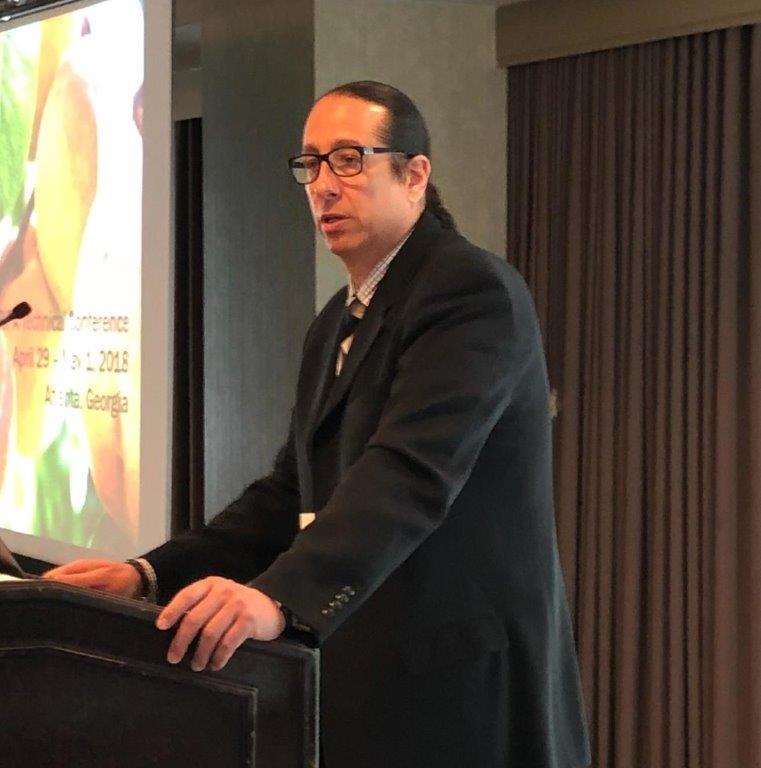 ff the working sessions with an ambitious agenda covering annual, periodic testing of tight head drums as well as RIPA's petition to U.S. DOT for practical rules on the removal of coatings and labels.  Product Group Chair, Barry Wingard, raised several new issues including potential formulations for chime sealants and coating formulations that could minimize UV effects.
The IBC Product Group was up next with Co-Chairs David Levine and Brian Evoy leading the way.   Mr. Evoy and Mr. Levine were joined by Paul Rankin in a discussion of residue management, emphasizing measures to minimize health and safety concerns.  Mr. Rankin also provided an update on the pending renewal of permits to insert new "factory fresh" bottles without having to perform a leakproofness test.
Later, the group discussed the upcoming annual testing of "cross bottled" units as well as the chances that DOT might one day accept less than annual testing for certain design type packagings (e.g., IBCs) provided certain demonstrations and assurances can be made.
In the Product Group Plenary session, a rather lengthy agenda was put before the combined RIPA Product Groups.  Several U.S. DOT regulatory issues that were covered include the agency's agreement to propose ultrasonic leakproofness testing as a universally available test method and the agency's plans to place all "M" and "R" numbers in 5-year renewable cycles.   The deadline to convert to a 5-year authorized number is November 17, 2018 – after which companies could lose their registered number(s) if they have not applied.   Attendees were advised that RIPA would be issuing members a model letter and simple instructions for making the application – well in advance of the deadline.
RIPA Counsel, Rick Schweitzer, reported on several trucking and driver issues including Electronic Logging Devices (who's required to have them? who's not?); drivers' hours-of-service rules; and other related issues.
Mr. Rankin and Mr. Schweitzer then led a discussion about DOT involvement in monitoring and/or consulting with emptiers regarding compliance with empty container regulations.  This led to a lively discussion that touched on many concerns about how the outreach could impact customers. In pursuing its goals for empty containers, RIPA has revised its "Empty Container Certification" forms and is drafting a sample "contract" for reconditioners to use with emptiers.   Meanwhile, RIPA has just re-stocked its inventory of "Rejection Stickers" and its "Empty Container Posters" which can be ordered  HERE.
The meeting then took on other important issues related to empty containers, although more from the perspective of federal EPA and various state environmental agencies.   Attendees were advised of events over the last year leading up to a high level meeting at EPA headquarters in Washington where RIPA made its case that state and regional officials had misconstrued the agency's own empty container rule.
Attendees were encouraged to attend the 16th International Conference on Industrial Packaging September 19-21, 2018 in Tokyo, Japan.  The Japanese Drum Reconditioners Association – JDRA – is well known for its global reach and its fantastic events.    This year's conference will be no exception!
Attendees also were advised of the inaugural Industrial Pack 2018 conference and exposition in April in Atlanta.   Several RIPA members were exhibitors at the event and President Paul Rankin was a featured speaker.  Generally, reviews of the event were positive considering that this was the organizers' first show featuring the industry.  A second show, also in Atlanta next spring, is already being planned.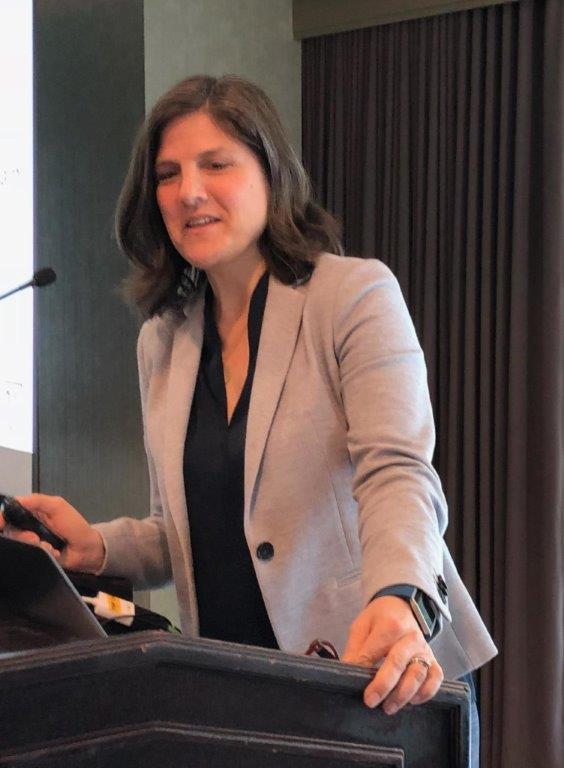 The Main Speakers Program began the next morning with remarks from RIPA's new Chair Mr. Brian Evoy.    Brian welcomed and recognized several new and potential new members as well as several distinguished guests.  He also thanked RIPA's Supplier Members for their support of the Technical Conference.
The first guest speaker was Ms. Mary McShane-Vaughn, an expert on the "Sigma 6" protocol widely used in many industries for optimizing production and quality control.   Next was Professor Caroline Fohlin from Emory University's Economics Department who  led a lively discussion of the new tax law and its many ramifications on personal and business taxes.
Next was an informal discussion with the Acting Associate Administrator for DOT / PHMSA's Field Operations (i.e., enforcement), Mr. John Heneghan.   John has been a speaker on prior occasions, and once again he was candid and understanding of the industry's concerns about DOT enforcement activities.
Finally, RIPA's Technical Director, C.L. Pettit, conducted HazMat Employee Training as is required for new employees and for all employees every three years.  Upon completion of the session, all the trainees received their Certificate of Training and Knowledge Test.    Regarding the written knowledge test that is a required part of the course, RIPA is happy to report that 42 out of 43 trainees turned in perfect scores!  And the 43rd trainee only missed one question. Well done!
REUSABLE INDUSTRIAL PACKAGING ASSOCIATION
51 Monroe Street  Suite 812
Rockville, MD  20850
301-577-3786
Copyright © 2018 Reusable Industrial Packaging Association, All rights reserved.
You are receiving this email because you are a member of the Reusable Industrial Packaging Association.Our mailing address is:Reusable Industrial Packaging Association51 Monroe StreetSuite 812Rockville, MD 20850Add us to your address bookWant to change how you receive these emails?
You can update your preferences or unsubscribe from this list