Louisville was the Place to Be This Spring ! 
RIPA 2023 Technical Conference   April 23- 25
Louisville, Kentucky
More than 90 RIPA members gathered recently in Louisville, KY for the 2023 RIPA Technical Conference.  The Conference featured an exceptional line-up of talented and informative speakers, and the social events were lively and fun.
On Sunday evening, attendees gathered in the Hotel Distil for the Supplier's Reception.  Although the event was moved inside due to the chilly weather, the room offered excellent views of downtown Louisville's expansive skyline.  The City is one of the fastest growing in the South and is filled with great restaurants and tourist attractions.
RIPA Chair Tim O'Bryan opened the Conference on Monday morning with an overview of the key issues facing the industry, including potential new VOC emission regulations and an effort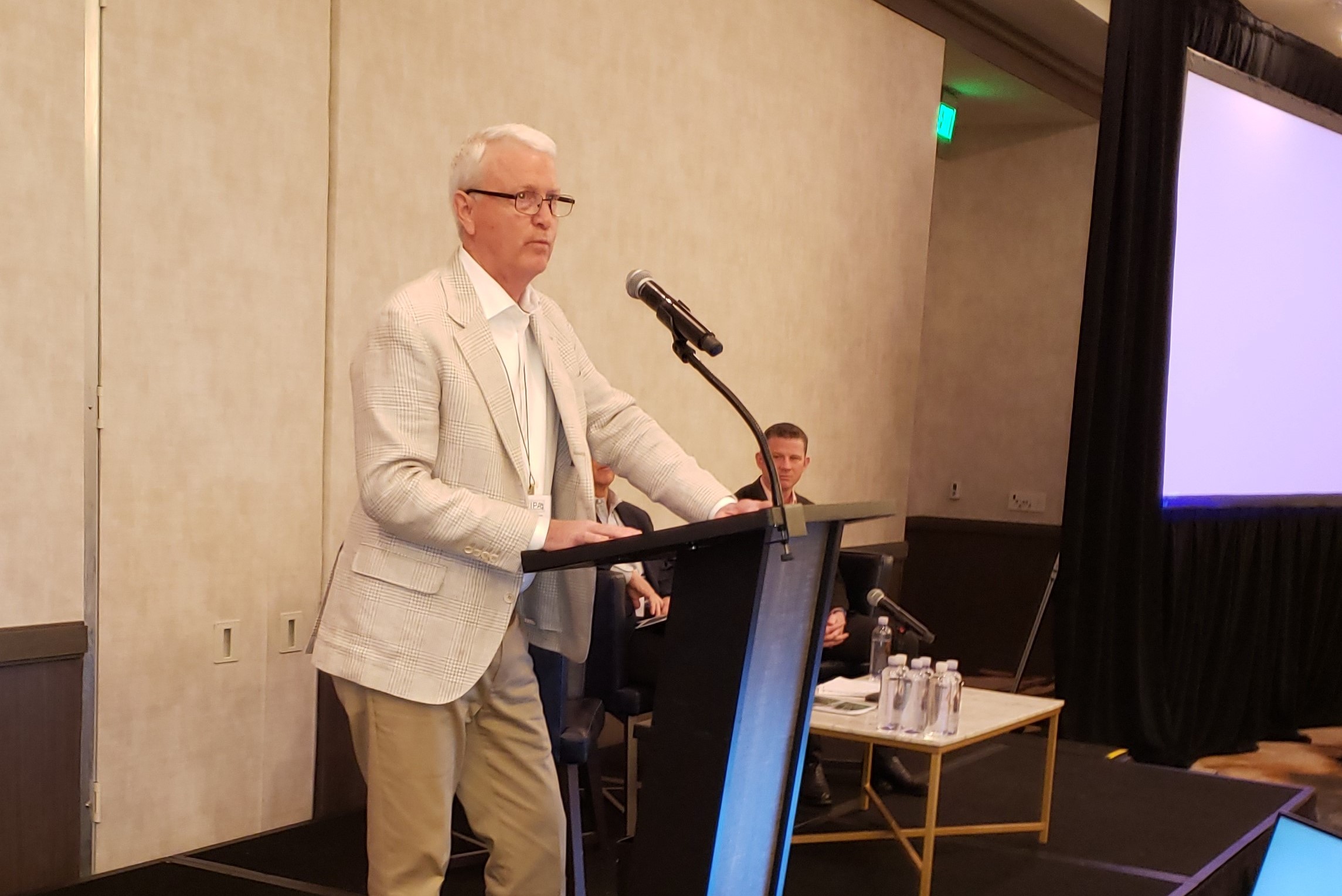 by Region 5 EPA to question the empty container rule.  He reminded the audience about the importance of RIPA membership in these difficult times and thanked staff for their efforts to protect member companies from inappropriate regulation.
The first speaker of the morning was Nathan Mehrens, VP, Workforce Policy, American Trucking Associations.  Mr. Mehrens said there are currently about 80,000 openings for truck drivers in the U.S. and ATA predicts that number to nearly double by 2030.  ATA and other groups are working with Congress to develop innovative strategies, including apprenticeship programs, to expand the number of men and women drivers, but progress is slow.  He is concerned that new state rules, such as AB-5 in California, which effectively prohibits drivers from acting as independent contractors, could further increase driver shortage.
The next presentation featured Centurion's Kay Robinson and John Pinion, Principal Engineer, RK & Associates, speaking about U.S. EPA efforts to regulate emissions of volatile organic compounds (VOC) from reconditioning facilities.  RIPA President Paul Rankin introduced the subject by informing members that U.S. EPA Region 5 has been visiting reconditioners in the region and asking for extensive amounts of technical data, including all recent air quality tests and procedures for estimating process emissions.  RIPA is working with the Region to obtain data and conduct pilot tests that would enable the development of "emission factors" that will simplify any future regulation of the industry.
Pinion provided an overview of the RIPA VOC program and why it is crucial that reconditioners in the association provide SDS and test report data to the association.  "Our goal is to gather enough data from industry sources to enable us to develop credible estimates of VOC emissions for facilities of any size.  These emission estimates, once accepted by EPA, will enable reconditioners to develop compliance procedures that are fair and consistent throughout the U.S.," said Pinion.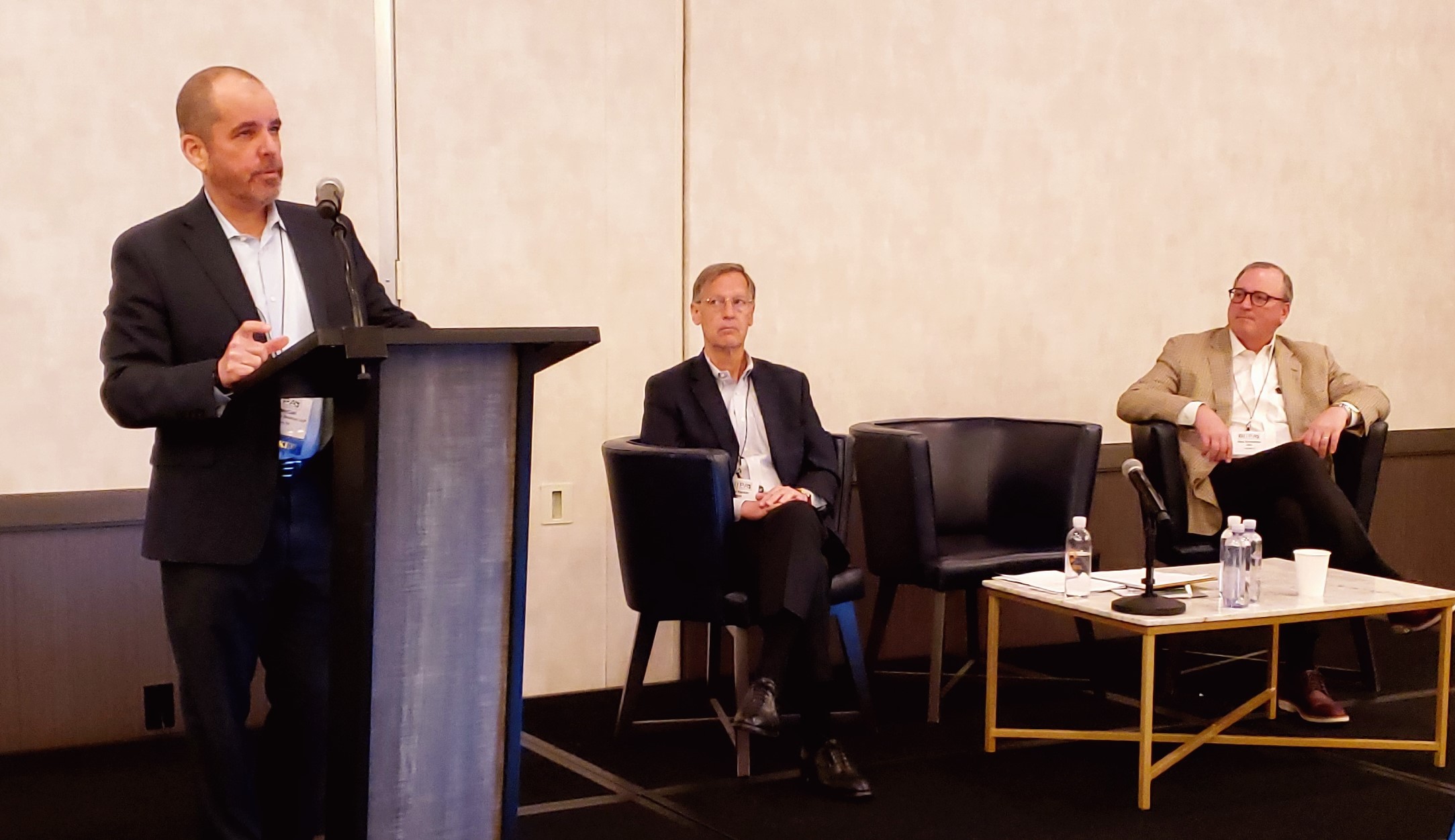 The final speaker of the day was Duke McCall, III, Partner, Morgan Lewis law firm.  Mr. McCall is RIPA's special counsel on environmental matters and is helping the association push back against EPA efforts to limit or possibly eliminate the RCRA empty container rule.
Following remarks by RIPA President Paul Rankin introducing the issue, McCall told attendees that EPA's Office of Resource Conservation and Recovery will very likely publish an Advance Notice of Proposed Rulemaking (ANPRM) later this year asking the reconditioning industry and other interested organizations to offer their views on issues related to the management of empty containers and related topics.  "The NPRM will give RIPA a great opportunity to tell their story – and it is a great story – not only to the agency, but also to customers throughout the U.S.", said McCall.
"In a recent letter to the Agency," said McCall, "RIPA highlighted the environmental and economic benefits of industrial container reconditioning, including reducing waste and decreasing greenhouse gas emissions." The association also highlighted decades long efforts to promote regulatory compliance, particularly regarding the empty container rule.  "For more than three decades, RIPA has worked diligently to ensure compliance with the RCRA-empty container rule through its Responsible Container Management program, empty container certification form, rejection stickers and other similar programs," noted McCall.
That same letter attempted to correct many of EPAs improper assumptions and assertions in its recent "Drum Reconditioner Damage Case Report."  McCall noted that reconditioners do not have an incentive to accept non-RCRA empty drums.  "To the contrary," he said, "reconditioners have a powerful economic incentive to reject non-RCRA empty containers."  McCall also noted that about half of the "damage cases" in the EPA's report have nothing to do with RCRA compliance issues.
In response to questions, McCall said that RIPA has so far done a superb job educating key staffers at EPA and has also created a strong coalition of industry groups that understand the economic and environmental benefits provided to their members by the industry.  "RIPA plans to work closely with groups like the American Chemistry Council and National Association of Chemical Distributors to educate EPA about the industry and the benefits it provides on a daily basis to preserve the environment and support the nation's manufacturers," said McCall.
That evening, attendees gathered at the famous Brown Hotel, where Presidents and dignitaries often stay when visiting the City.  The next morning, the meeting continued with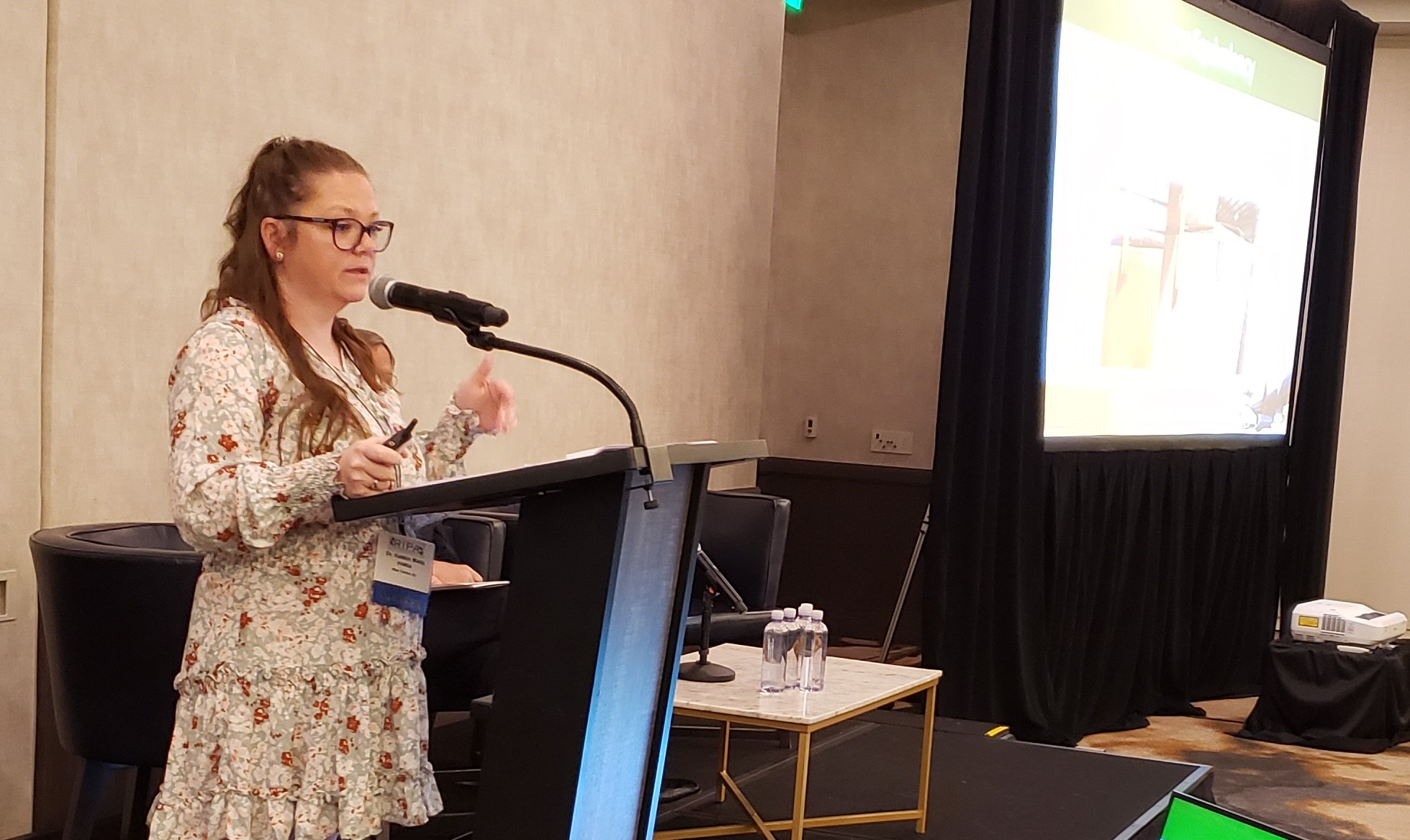 a presentation by              Dr. Kaitlin Maits, PHMSA Investigator and Packaging Coordinator.  Dr. Maits offered helpful tips to attendees about how to prepare for a DOT inspection.  She suggested that every plant maintain a DOT file folder in which key employee training records, testing records, special permits and other relevant materials are kept.  "When an inspector sees that you are organized and your records are easily accessible and up to date, that makes a positive impression," she explained.  Dr. Maits also advised that drafting is underway on the association's special permit application regarding empty IBC transportation.
Following her formal presentation, Dr. Maits graciously answered numerous questions from the audience on issues ranging from on-site testing to DOT's Systems Integrity Safety Program.
Following Dr. Maits' talk, RIPA hosted a "Supplier's Panel" featuring representatives from four RIPA Supplier Member companies.  Jason Colegrove, Sales Director, Tri-Sure, and his colleague Sean Smith, spoke about their company's global reach and wide range of high-quality closures and gaskets for steel and plastic drums as well as intermediate bulk containers.  Michael Labellarte, Enterprise Marking Products, spoke about his company's extensive catalog of labels, both custom and blank, as well as their high-speed printing systems for both reconditioners and manufacturers.  Darrell Terpenning, VP Sales, NLB Corporation, discussed existing and planned container cleaning options, including label removal and systems that clean both the interior and exterior of metal and composite IBCs.
RIPA General Counsel Rick Schweitzer addressed a number of topics on new and upcoming business regulations, including:
Proposed revisions to DOT's Safety Measurement System that identifies companies for enforcement interventions;
Senate proposal to increase hazmat civil penalties and registration fees;
FMCSA Drug and Alcohol Clearinghouse notices to employers when a driver has information in the system from another employer;
EPA rulemakings on engine emissions/greenhouse gases;
IRS tax credits for electric and hydrogen vehicles;
An upcoming OSHA final rule on heat illnesses and injuries; and
FTC's proposed rule to ban non-compete agreements for employees.
RIPA VP C.L. Pettit and Kathy Lodico, The Cary Company, updated members about some exciting new data management opportunities available through the association's SDS compliance program.  C.L. described the history of RIPA's SDS compliance program, starting with RIPA's offering, at a steeply discounted rate, of the 24/7 SDS "On Demand" 1-800 emergency call number.  Kathy described how the new offering, which still includes the 24/7 emergency call service, provides members a broad range of online tools to manage a company's SDS inventory and use SDS sheets in a number of helpful and time-saving ways.
RIPA President Paul Rankin provided an overview of key regulatory issues facing members in the coming year.  He noted that RIPA will comment on a recently released notice from DOT seeking input on policies aimed at encouraging greater use of recycled plastics in the manufacture of industrial packaging.  He said the Canadian General Standards Board is updating rules for IBC manufacturing and reuse, as well as those for reconditioned drums.  RIPA is a member of the CGSB advisory committees for both issues.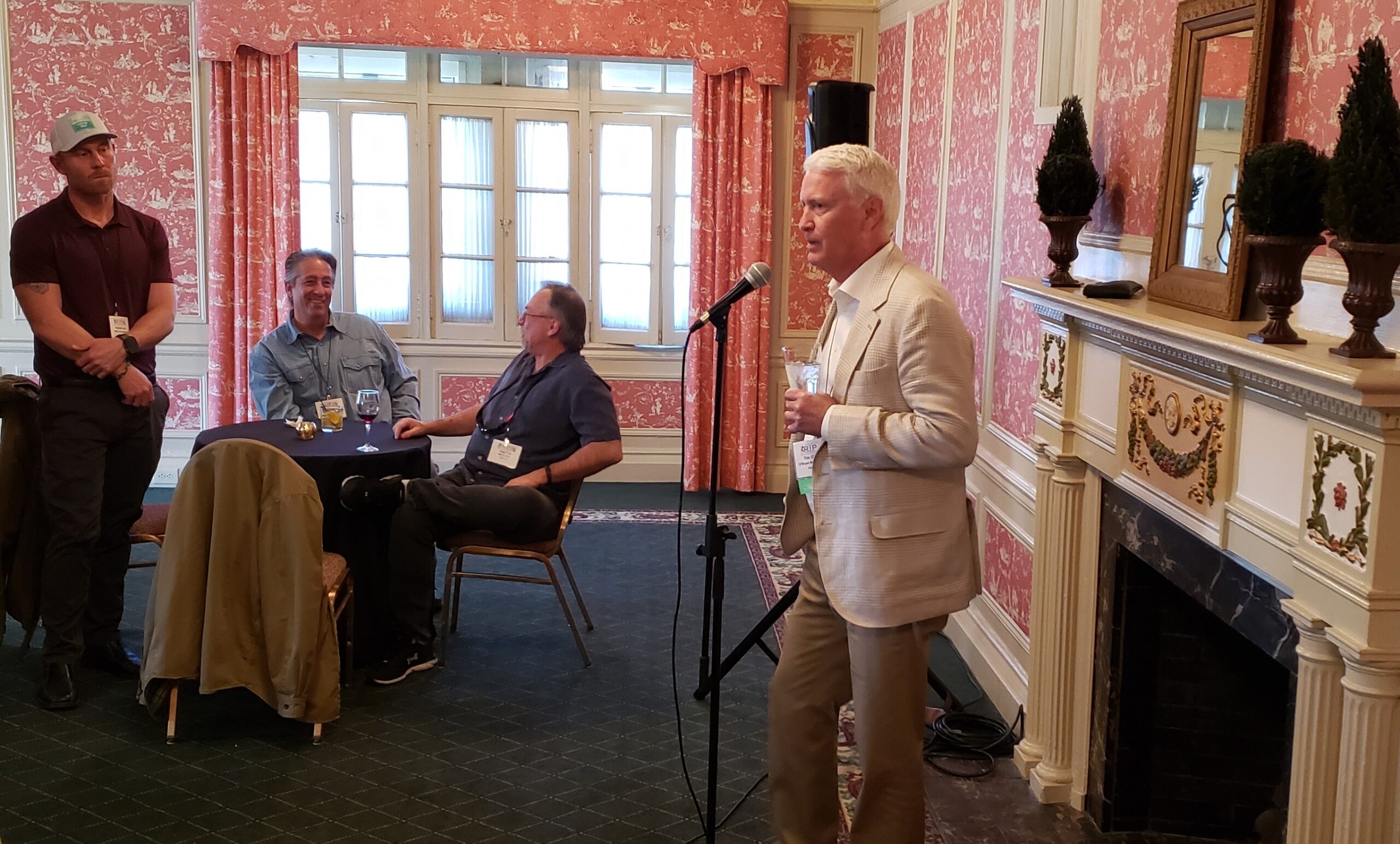 Rankin also encouraged members to attend the upcoming International Conference on Industrial Packaging, which will take place September 26 – 29, 2023 in Ghent, Belgium.  Rankin said that the meetings, which are held only once every three years are always great fun and filled with superb presentations about issues affecting the global industrial packaging industry.
                                                                                                                                                Reusable Industrial Packaging Association