On December 2, 2021, RIPA member Patrick J. Kelley Drums in Camden, New Jersey had the pleasure of hosting an informational tour for the Acting Administrator of U.S. DOT's Pipeline and Hazardous Materials Safety Administration (PHMSA), Mr. Tristan Brown. Mr. Brown was joined by PHMSA Chief Field Investigator for the Eastern Region, Mr. Mitchell Brown. Also attending was RIPA Technical Director C.L. Pettit. Guiding the tour was Mr. Ed Bash, Pat Kelly's Compliance Manager.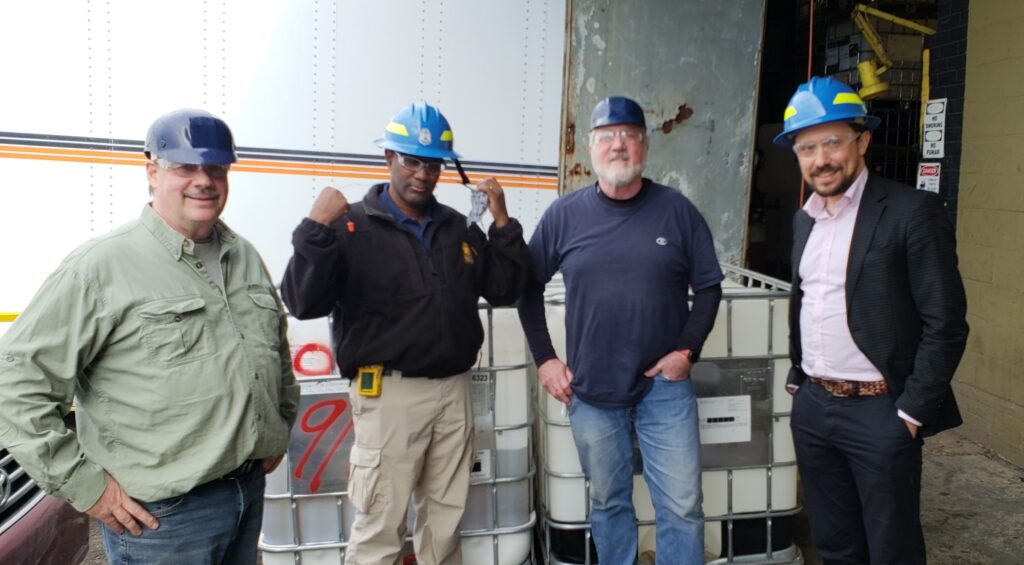 L to R: Ed Bash (PKD), Mitchell Brown (PHMSA), Dennis Mullin (PKD), Triston Brown (PHMSA)
The tour featured a thorough look at each of the three main operations: steel drum reconditioning and remanufacturing, poly drum reconditioning, and composite IBC reprocessing. Each stop included a demonstration of the ultrasonic leakproofness tester and, for poly drums and IBCs, a discussion of the plastic shredding operation. The three ultrasonic leak testers were recently issued renewable Approvals by PHMSA's General Permits and Approvals section.
In addition to the leak testers, the guests were provided a demonstration of the drop test with a steel tight head drum marked Y 1.4/ 250. The test result was a clear PASS.
The guests were also impressed with the measures taken and the investments being made by the company to protect the environment, reduce the carbon footprint, promote sustainability, protect workers and appeal to the local community. For instance, the company does not draw water from the city or discharge spent washwaters or pre-treated waters to the sewer system or local water bodies (e.g., the Delaware River). The company collects rain water to meet the needs of washing drums and IBCs. All dissolved and suspended solids are extracted in the on-site water recycling system and then sent off-site for safe disposal. The treated water is reused on-site and excess treated water is sent off-site for further treatment and reuse by others.
"RIPA truly appreciates Kelly Drums' generous offering of time and space to make this tour possible" says RIPA's Technical Director C.L. Pettit. "This kind of hands-on — and in person — interaction is very constructive for all members of RIPA and for all the leadership at PHMSA as well."